Mount Tahoma High School


Class Of 1963
In Memory
Gary Geppert VIEW PROFILE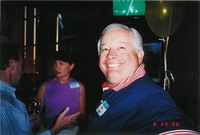 A nice tribute to Gary in 2008
Students blend patriotism and diversity in sculpture
Puyallup High School art students are hard at work this spring creating an outdoor art sculpture that represents patriotism and celebrates different cultures as a lasting tribute to a long-time local supporter of the arts. The 6-foot-high and 12-foot-long American flag art will combine the skills and talents of students in the school's ceramics class, metal and glass arts programs, and art club. Plans are to install the memorial sculpture in front of the school gym this spring and dedicate it to the late Gary Geppert, Sr., one of the founders of Valley Arts United (VAU).
Geppert's wife, Verlaine, and two children, Gary, Jr. and Jolaine, graduated from Puyallup High. He was vice president and general manager of Vancouver Door Company adjacent to the high school. The Puyallup resident worked there for 31 years before his death in 2003. Geppert also served in the U.S. Coast Guard. "He had a real passion for the arts," his daughter, Jolaine (Geppert) Aho said. "He was an all-American boy who appreciated what each culture brings to this nation."
The flag will feature 13 metal stripes that will be joined to posts in several sections. The stripes will be angled in a zigzag pattern as if waving in the wind. Fifty metal stars embellished with different colors of clay, glass, copper, brass, and aluminum will be welded onto the stripes to represent different cultures and countries. Student artists will create and submit 100 stars to the Geppert family, which will select 50 for display. A metal post will stand next to the flag and have an "All are Welcome" message inscribed in different languages on all four sides.
The project is being funded by the Geppert family, which wanted to create a lasting contribution to the arts in Gary's memory. They requested donations to Valley Arts United in lieu of flowers at his memorial service five years ago. Ever since, family members have been searching for a fitting sculpture through Arts Downtown that would reflect Gary's "love of country, community, and family, and bring his memory to life."
The idea of involving high school students was pitched by VAU member Rosemary Eckerson. She contacted Puyallup High art teacher Becky Lathrop, who assigned the project to her art students.
Students Kayleigh Bennett and Jessica Munson developed the initial project design, which was fine-tuned by Tacoma-based artist Kris Vermeer before presenting a model to the family. "This seemed like a wonderful opportunity to get the students involved and create a lasting memory for my dad in the city,"Aho said. "What they are doing is more than we would have ever imagined."
Vermeer, who has designed several pieces in the Arts Downtown rotating gallery, was the featured guest artist at last month's Puyallup High art club meeting. Students crowded around the art table after school to share their sketches or prototype designs as they discussed their overall vision for the project.
Senior Ruby Ruelas said she plans to represent her Mexican heritage by decorating the metal star with an Aztec sign in the center, surrounded by a complementary design around the edges. She will sprinkle colored glass throughout to match the colors of the Mexican flag. "It began as an art project for me, but now I am learning about other cultures," Ruelas said.
Students began the project in the library, where they researched cultures or countries they wanted to represent on the stars. Then it was back to the art room to first complete a two-dimensional drawing of their design, followed by the creation of the star.
Sophomore Sabrina McNulty sat across from Vermeer during the art club meeting and was quick to share her design—a white and silver glass Celtic knot against a green glass background. "I'm so pleased with the designs they have come up with and the thought they have put into them," Vermeer said.
Principal Mike Joyner said the sculpture is "truly a partnership between the school and community. The metal, ceramic, and glass art sculpture will be a piece of art that is unique and very special not only to our school, but to our community. It's patriotic, and at the same time it's student art that shows the community and our students how much we care about Gary's memory."
On a recent morning in metals class, teacher Fred Fishback instructed students on how to cut out and file their metal stars, as well as a new technique in which they could use tools heated in a forge gas oven, much like a blacksmith, to bend and form metal to create interesting designs. Students are learning a myriad of skills with the project, such as measuring, welding, forming, and cutting different types of metal including steel, copper, brass, and aluminum. "There is a lot of hands-on work, and this is a great way to get kids to branch out and look at different cultures," said sophomore Sherwood Sloan.
In glass arts, students are learning how to cut, fuse, and decorate glass. Students in Dorrie Coleman's ceramics classes will work with various kinds of clay and will learn how to create relief, as well a shrink and dry large clay forms without having them crack. The art club will work with Vermeer on the construction of the pole. The project is slated to be finished by the time school ends in June.
"This is an incredible opportunity for them to be part of a large public piece and to work with a professional artist," Lathrop said. "They will get an opportunity to learn skills over and above what they would have been exposed to in class."
Click here to see Gary's last Profile entry.